FINE GUNS
HOME
We Need Guns!
Cherry's is always looking for good antique and modern firearms. We accept single pieces, complete collections and estates. We also accept pieces for consignment sale. If you own, or know of some fine firearms that are looking for good homes, call us here at Cherry's. If you prefer to E-mail us, please include a good description of what you have for sale or consignment, and don't forget to provide a daytime phone number where we can reach you.

ATTENTION!
Our showroom hours are Tuesday thru Thursday, 8 to 4:50 east coast time. We are out of the office occasionally looking at collections or attending gun shows, so you may want to call first if coming in from out of town to make sure we'll be here.
Important! Please Read!
Cherry's will be CLOSED starting Wednesday, October 4th until Tuesday, October 10th while we attend the annual Colt Collector's Show in Scottsdale, Arizona.

PLEASE READ!
NEW HOURS STARTING AUGUST 1ST, 2020!
SHOWROOM HOURS TUESDAY THRU THURSDAY 8:00 A.M. TO 4:50 P.M.
TELEPHONE HOURS MONDAY THRU THURSDAY 8:00 A.M. TO 4:50 P.M.
SPECIAL ANNOUNCEMENT!
Colt's Double Action Revolvers - The Post-War Era
Colt's Double Action Revolvers - The Post-War Era is the third book in a series of educational volumes related to Colt double action revolvers. Preceded by Seven Serpents - The History of Colt's Snake Guns and Colt's Python - King of the Seven Serpents. This book, with more than 400 pages of information and photographs, will satisfy those looking to increase their knowledge of the subject. Included is an entire chapter covering Colt's 2017 re-entry into the double action revolver market. High resolution photographs serve to help introduce the latest variations of the Colt Cobra, King Cobra, King Cobra Target, Python and Anaconda revolvers. Many of these are being seen in print for the first time. Personalized autograph on request.
Colt's Post War Revolvers $84.95
(add $20.00 for S&H))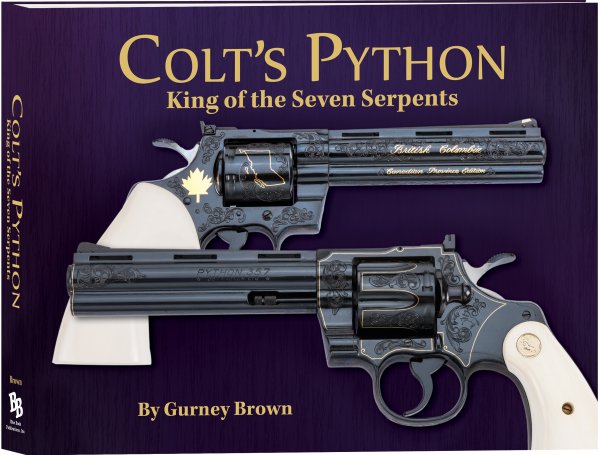 Now in it's 2nd printing!
Colt's Python: King of The Seven Serpents
The new book from author Gurney Brown will be available for shipment in mid-late March 2018. This new tome has more than 300 pages of information and more than 400 images of Colt's fabulous Python model, including guns, grips, boxes and display cases, catalog pages, factory price lists and more. The most up-to-date serial number information ever published on Pythons is also included as well as the Colt Archive Factory Letter for each gun depicted. If you are a fan of the Colt Python, this reference is a "must" addition to your firearms library. Mr. Brown will autograph your personal copy on request.
Colt's Python $65.00
(add $20.00 for S&H))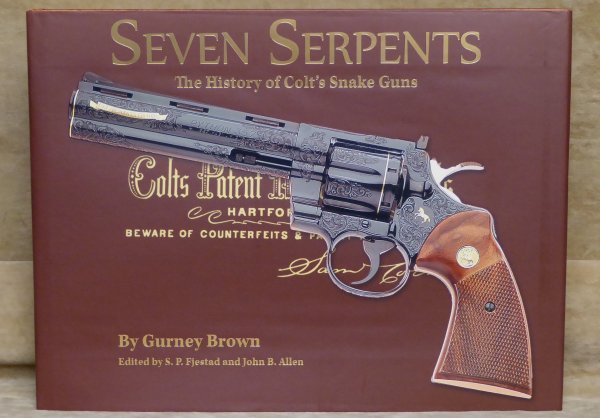 Now in it's 7th printing!
Seven Serpents: The History of Colt's Snake Guns
New book by Cherry's former Vice President Gurney Brown, covering all aspects of Colt's Seven "Snake" Guns. 344 pages with more than 350 high resolution photographs. Only book of it's kind and certain to be an invaluable reference to all Colt Snake collectors. No Colt library is complete without this new book. Includes information on each "Snake" gun, boxes, manuals, serial numbers, production codes, and LOADS of other previously unpublished information. Large landscape format (12 1/2"x9 1/4"). Get yours now! Personalized autograph on request.
Seven Serpents $99.95
(add $20.00 for S&H))


(Site Last Updated 10/03/2023


Cherry's attends gun shows all across the country. Please come by to see us at the following shows:
| | |
| --- | --- |
| Gun Show Calendar | Gun Show And Location |
| July 23-24, 2021 | Missouri Valley Arms Collectors, KCI Expo Center, Kansas City, Missouri |
| September 17-19, 2021 | Colorado Gun Collectors Show, Colorado Springs Event Center, Colorado Springs, Colorado |
| October 1-3, 2021 | Colt Collectors Assoc. Show, Embassy Suites, Noblesville, Indiana |

NEWEST ADDITIONS!!

Kevin Cherry Personal Guns For Sale!
Introducing Sam Cherry Engraving!
Index

Ordering And Shipping Information

Will we buy your used guns...? You Bet!

E-mail us here at Cherry's!
We're The World's Leading
Commemorative Gun Dealer!
3408 West Wendover Ave. Suite N
Greensboro, NC 27407
Phone: 336-854-4182 * 24-Hour Fax: 336-854-4184
(Showroom Hours Tues-Thurs 8 to 4:50, Telephone Hours Mon-Thurs 8 to 4:50)



All photos, firearms graphics, ad copy (including the Cherry's logo) and the Cherry's Complete Commemorative Gun List are the property of Cherry's Sporting Goods, Inc. and may not be used for any purpose except personal reference without express permission.