FINE GUNS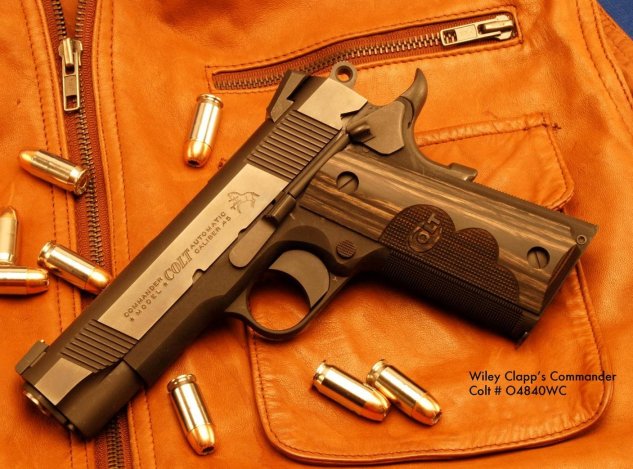 Colt 21st Century Commander
Designed By American Rifleman
Field Editor Wiley Clapp
Limited Run of 300
Designed by Wiley Clapp as the ultimate carry 1911. This lightweight commander is 45 caliber with 4.25" barrel. The slide flats are a polished black-oxide finish with top being a matte-black finish. The slide has angled front and rear cocking serrations and a fluted and cleared ejection port that is moderately lowered to a height of .47 inches. The frame also has the matte-black finish except for the steel parts like the slide stop, thumb safety, magazine release and grip safety which are the polished black-oxide look. The grip safety is of beavertail design.
The gun does not have the Series 80 style passive firing pin safety mechanism. It has the Series 70 mechanism which is simpler and is considered by many to offer a slightly crisper trigger pull. The flat mainspring housing is steel and is checkered as is the front strap.
The grips are the Dymondwood Tactical oval stocks designed by Clapp and produced by Altamont. The stocks have fingerprint checkering. The sights are Novak sights that are low-profile.
O4840WC $1439.00 (plus $20 S&H)
Cherry's Fine Guns
3408 West Wendover Ave. Suite N
Greensboro, NC 27407
Phone: 336-854-4182 * 24-Hour Fax: 336-854-4184
(Open Mon-Fri 8 to 5, closed Sat & Sun)

E-mail us here at Cherry's!

Return to Cherry's Home Page!